Social Champ – A Hassle-Free Solution For Social Media Management
Either you are a social media marketing service or running your online business, it's pretty challenging to do all your tasks when you have so much on your business plate. From creating your content to publishing and tracking the analytics, it all looks like a daunting task. 
Why not minimize your extra efforts and save your valuable time and energy for the other tasks?
Stop scratching your head and staring blankly at your screen and lessen your marketing efforts with the best social media management tool. 
With the influx of social media management tools in the market, it's a little hard to find the one that's easy on your pocket and has all the features you are hunting for. 
This is why we are reviewing Social Champ today. 
Hello, Social Champ 
An exceptional all-in-one social media management tool with a unified dashboard that can handle multiple social media platforms simultaneously. With Social Champ, you can schedule posts on various social networks for audiences in different time zones, tag other pages, add hashtags, images, and repeat posts for active social media presence. 
A perfect way to boost engagement on your posts. It allows the users to create, publish and analyze your posts on LinkedIn, Facebook, Twitter, Google My Business, Instagram, and Pinterest. Get more done in less time and stay ahead of your posting schedule. 
Furthermore, it helps you analyze your social media posts with platform-specific metrics using beautiful graphs and charts. 
It consists of next-level features that you would love to use, including the bulk upload, auto RSS, social media calendar, analytics, team collaboration, recycle, Pinterest video scheduling, Instagram and Facebook first comment, and much more.  
Social Champ enables you to track all the metrics of your different social media profiles, leading to better planning and strategies in months and days to come. Get more done in less time and stay ahead of your posting schedule. 
So instead of switching or toggling tabs and breaking your flow, you can now be more persuasive and make the most of your social media presence.  
Don't miss out on the essential requirements; you don't need to be active on your social accounts to post content daily. Let Social Champ do this for you by scheduling your posts in advance, saving valuable time, and diverting extra efforts to more productive tasks. 
You can handle all your social accounts from one dashboard. Publish posts, analyze your statistics to get powerful insights into your posts' performance, and work with your dream team. 
A Glimpse At Social Champ's Features
So, if you are looking out for the next-level features of Social Champ, then here is a run-down of all the important ones:
Multilingual sentiment analysis for your posts. Analyze how your posts sound to your audience with different reactions. 
Save your time and schedule in advance with a bulk scheduler for up to 3 years. 
Get a graph of your weekly and monthly performance and download PDF reports with white labeling options.
Repeat & Recycle your evergreen content with one click.
Connect your favourite blogs with social profiles to automatically update them with latest articles. 
Edit your images and videos with Canva, Crello, and Wave videos. You can also import images directly from Dropbox and Google Drive. 
Get top content suggestions and never miss out on any important news. 
Group favorite social media profiles for easy client management. 
Get a grid view of all your scheduled and published posts with a Social Media Calendar. 
Spice up your posts with some trendy hashtags, or you can create a hashtag group to use your favorite hashtags later. 
Schedule your posts with the Queue-categories. 
Turn on your notifications so that you don't miss out on any essential updates. 
Allows the first comment on Instagram and Facebook with hashtags and more. 
WordPress Plugin to upload content directly from WP website to social media profiles. 
Schedule video pins for Pinterest and much more! 
Key Features Of Social Champ
Social Champ has a bunch of fantastic features that enable you to streamline your social media process. Have a look at some of the key features of Social Champ. 
Schedule and publish on the go
Do you have way too much to post? Or are you one of those who always have something or the other in your content pipeline? Does scheduling take up way too much of your time? If any of this is true, then worry no more.
Social Champ has an ultra-powerful publisher that allows you to schedule posts in advance for up to 3 years!
Now schedule all your posts in advance on all your social media platforms and invest your time in other important tasks. All you need is to simply create your attractive post, spice it up with the trendy hashtags, add emojis, and there you go. If you want to repeat your posts multiple times, just switch on the 'I want to repeat my post button,' and your post will be repeated on all your desired social media platforms at your preferred time. 
Team collaboration feature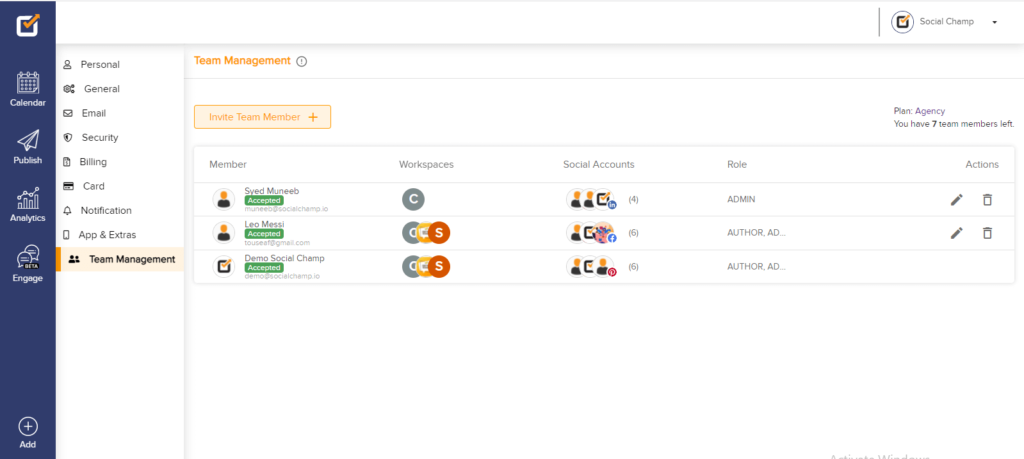 Social Champ is built for globally located teams. You can quickly collaborate with team members, post tons of content with bulk upload, and analyze statistics. You (or any authorized team member) can respond to the comments using a unified dashboard. As a result, you can see an increase in traffic and manage all your social media accounts from one centralized dashboard. 
Additionally, with workspaces, you can group together multiple social media profiles and declutter your account. Workspaces also encourage a more streamlined workflow and more composed client management. 
Analytics
Want to track the performance of your posts? Not a big deal when you have Social Champ as it offers you analytics features. Now you can track your recent posts and get a beautiful graph of the weekly and monthly performance of all your social media posts. 
Once in Analytics, From the top left dropdown, you can choose your desired social media profile and allow its stats to load. 
Engagement, Views, Likes, Unlikes, Actions, Reactions, Impressions and so much more.
Click one of them and Social Champ will present your data in beautiful graphs which you can compare from the current week to the previous or from the previous month to the present.
You can also export your data into a presentable PDF file, having graphs and posts with a custom logo and title.
Content suggestions 
Oh ho! Couldn't find the content to post on your social media profiles? No worries, Social Champ has your back. Here you can get suggestions of the trendy and latest news and happenings from around the world. Stay on the top and never miss out on something. 
Simply search for trending content using the suggestions feature. You can search for cats, food, and beauty, etc. Select your desired country, and you can add the RSS Link and Title of your desired website. 
Next, select the content you want to post on your social media profile. Moreover, you can get suggestions from Social Champ's 'Our Suggestion' list. Tap on 'Make a Post' to create a post. 
Now you can copy the entire link of your post and paste it into the content dashboard. Write something about your post. Add some creative hashtags and emojis to make it more expressive. Select the desired account you wish to post your content with.  You can either post it now, schedule or queue it up in the queue categories. And here it is done.
How To Sign Up For Social Champ 
Signing up for Social Champ is super simple. Here is how you can do it in a few easy steps: 
Step 1 
After landing on Social Champ's home page, click on the orange 'Sign Up' button on the left side. 
Step 2 
Next, enter your 'Name,' 'Email,' 'phone number,' and 'password' on the sign-up page and tap on the 'I agree to Social Champ's Terms & Conditions. 
Step 3 
Step 4 
Verify your account and on the social champ dashboard, start adding your social media accounts. 
Step 5
Now start creating your engaging posts and post like a Champ! 
Pricing
Social Champ offers you amazing features in a concise package that's easy on the pocket. As BFCM is around the corner, Social Champ offers you an exciting deal.
BFCM offer: 
30% off on monthly plans for the first three months OR 50% off on annual plans for the first year. 
The deal is valid for new users only. 
The discount applies to Champ, Business, & Agency plans. 
Use the code "BFCM2021" at the checkout.
The code is valid from November 18th, 2021  to December 2nd, 2021.
Regular Pricing:
Social Champ offers you four exciting plans. 
Champ Plan: $10/month 
Pro Plan: $29/month  
Agency: $99/month
Business: $199/month
If you wish to try out the platform before paying anything, signup for a 7-day free trial.
Business
E-commerce Business
Emails
Graphic Design
Infogrpahic
Logo Design
Social Media
UI/UX Design