Redefining Your Brand Identity: How a Logo Design Company Can Help
Every business needs a logo that represents its identity. When people see a logo, it helps them recognize a brand. However, not all logos have the power to grab people's attention. Only a well-designed logo can evoke emotions and make people curious about the brand it represents.
Collaborating with professionals offers numerous advantages, as they possess the necessary training for their service. This principle applies when seeking assistance from a logo design company. 
A logo serves as a crucial element to bring attention to your business. It represents the face of your brand, allowing the audience to become acquainted with it. Therefore, the logo needs to be perfect. Relying on inexperienced work can be risky, as a poorly designed logo may affect the popularity of your brand. However, a well-designed logo serves as an effective marketing and promotional tool. Incorporating a unique brand symbol into every advertising format gives a professional impression. Skilled designers are adept at overcoming numerous challenges during the creation process.
There are numerous advantages to entrusting your project to an experienced logo design company that has been operating in the industry for a considerable amount of time. Therefore, it is essential to familiarize yourself with the fundamentals of a logo before engaging in the services. Let's delve into this topic.
So, what really is a logo? 
It is a visual representation of a company's name and purpose, created using images, words, shapes, or a combination of these elements. However, a logo has the potential to be much more than a mere symbol of identification. It can effectively communicate a brand's message to its intended audience while also creating an emotional connection and conveying the company's story. This somewhat vague but inspiring definition of a logo can be broken down as follows:
Why is a logo important? 
A logo serves several important purposes that should not be overlooked:
It creates a positive first impression, attracting potential clients and establishing your brand identity.

It gives your business a memorable name that helps people recognize and remember you easily.

It sets you apart from your competitors, making you unique and recognizable.

It fosters brand loyalty among customers and encourages repeat business.
Considering these reasons, it is essential to prioritize the development of a professional and well-designed logo when starting a company. A visually appealing logo can significantly influence potential customers' decision to engage with your business. On the other hand, a logo that appears simplistic or unprofessional may raise doubts about your capabilities. To ensure your logo stands out, working with a logo design company is crucial.
Benefits Of Working With A Professional Company! 
There are five advantages that you can enjoy when you decide to hire a logo design company in the USA:
Experience – Excellence and Popularity 
The company's team of skilled designers has worked on various projects across multiple industries, giving them a deep understanding of industry standards and logo design requirements. This allows the company to create logos that truly resonate with its client's target audience and convey the essence of their business in the most effective way possible.
Quality and Versatility 
The company believes that quality is a mark of professionalism. Its expert designers ensure that the work they deliver is of the highest quality, tailored specifically to suit the needs of the clients' businesses. Additionally, the company's logos are designed with versatility, ensuring that they can be displayed in any format for advertising purposes without losing any impact.
Ability to Handle Larger Brand Projects 
The company understands the unique intricacies and research required to design a logo for a larger company. By incorporating specific specifications and creative ideas, the company creates logos that exude class and leave a lasting impression on the audience. Whether the target is the younger generation or a broader audience, the company implements elements that will attract the clients' main customer base and others.
In tune with Current Trends 
The company stays up-to-date with the latest trends, which are determined by the audience's preferences and provide valuable insights for the designers. This allows the company to incorporate the necessary features and elements to capture viewers' attention and convert them into potential customers.
Prompt Completion 
The company understands the importance of delivering projects on time. Nothing is more frustrating than delays, especially when clients have already planned their strategy around the completion date. The professional logo design agency is dedicated to delivering projects within the agreed-upon deadline, ensuring clients have a seamless and enjoyable experience.
Now, let's move on to rebranding and why you should consider it ASAP.
What Is Rebranding And Why Should You Consider It Immediately? 
If you want to elevate your brand strategy to the next level, rebranding is a powerful tool to rejuvenate and reinforce your business or organization. It allows you to establish a unique identity in today's competitive market, where numerous brands are vying for your customers' attention.
A successful rebranding strategy typically relies on experienced branding professionals and entails research, analysis, planning, and strategizing. It covers all aspects of your business that are related to branding, such as logo design, tone of voice, advertising campaigns, marketing strategy assets, social media presence, and website design. 
By investing in rebranding as soon as possible, you can get ahead of the competition by creating a standout identity, along with several other benefits we will discuss below.
Key Benefits Of Rebranding Your Business
Changing the way your business or organization looks can have many benefits. The most obvious one is giving your brand a fresh and modern appearance. In business, how your brand looks is important because people often judge based on appearance.

Having a new brand identity, logo, and modern branding can help you stand out and stay ahead in a market that cares about design. It can also make your business different from competitors, which is especially helpful if you want to enter new markets or attract new customers.

To keep customers and get new ones, you need to talk to them in a way they understand and like. This means having a recognizable and modern brand that meets their expectations. Rebranding can help you do this by showing the values of your business and giving customers a memorable experience. It can also help you connect with customers on an emotional level, which makes them more loyal.

Don't let your branding become old and boring and lose customers. Start fresh and have engaging and up-to-date content that people will like.

Rebranding also gives you the chance to reach new customers and keep the ones you have. It lets you show them a new and improved version of your business that they will recognize and like. You can also choose to target new groups of people that you haven't tried reaching before. This can really change your business for the better.

A good rebrand lets you keep your values or bring in new ones that represent your business well. Values are important for any successful business because they show customers what makes you different from others. By rebranding, you can make sure people understand and appreciate your values, which helps with marketing and builds trust with customers.

Rebranding can bring in more loyal customers and make you more money. By having a brand identity that matches your values, you can communicate with potential customers effectively. This leads to a better-known brand and a stronger connection with consumers. Rebranding also helps make your business unique and gives it an advantage over others. With more loyal customers, more people knowing about you, and a bigger target audience, rebranding is a good investment for any business.
Rebranding Examples
Rebranding inherently involves some level of risk for companies. Nevertheless, when executed with precision, it can potentially strengthen business growth.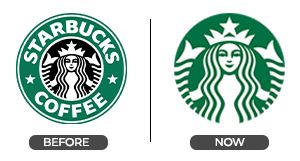 Since its establishment in 1971, this coffeehouse and roastery conglomerate has undergone numerous logo changes. However, let's focus on Starbucks' most recent rebranding efforts in 2011. In honor of their 40th anniversary, the Starbucks team made the decision to revamp their logo. They opted to remove the accompanying lettering, creating an opportunity for the mermaid image to take center stage. This bold move presented Starbucks with a fresh identity to present to its loyal customer base.
In 2006, when Burberry, a prestigious fashion brand with a rich history dating back to 1856, underwent a change in leadership, it became apparent that a transformation was necessary. The company took the opportunity to rebrand itself, focusing on highlighting its finest attributes and propelling ahead. Aiming to establish a stronger connection with customers in the digital realm, Burberry embarked on a journey to engage with them through various social media platforms. One prominent aspect of this rebranding was the brand's concerted effort to emphasize its British heritage, employing British models as a testament to its roots.
In 2019, Dunkin' Donuts underwent a redesign, unveiling a new logo that excluded the word "Donuts." As explained by the Chief Marketing Officer, the purpose behind this alteration was to revitalize the brand's image and highlight its growing focus on coffee, beverages, and sandwiches. Despite this update, the brand wisely retained its classic color scheme and iconic font to ensure customer recognition and perpetuate brand awareness.
In 2007, Dropbox was founded as a platform for hosting files. However, in 2017, the company shifted its focus to become a central hub for teams and businesses. Along with this change, the brand revamped its internal mission and adopted a more streamlined logo. This rebranding emphasizes that Dropbox is more than just a file-hosting service; it is a collaborative workspace that facilitates team connections and sparks innovation.
In 2008, this well-known global company successfully undertook a complete overhaul that yielded positive results. The management boldly decided to transform the brand's image completely, incorporating new color schemes, typography, and a fresh logo. Initially, Airbnb faced backlash on social media platforms, but eventually, the audience embraced the company's bold move. Consequently, Airbnb now boasts a modern and captivating identity.
Final Thoughts 
Whether you choose to undergo a simple brand refresh or engage in a full rebranding project, the choice to invest in a logo design company can have a significant impact on setting yourself apart from your competitors.
Business
E-commerce Business
Emails
Graphic Design
Infogrpahic
Logo Design
Social Media
UI/UX Design